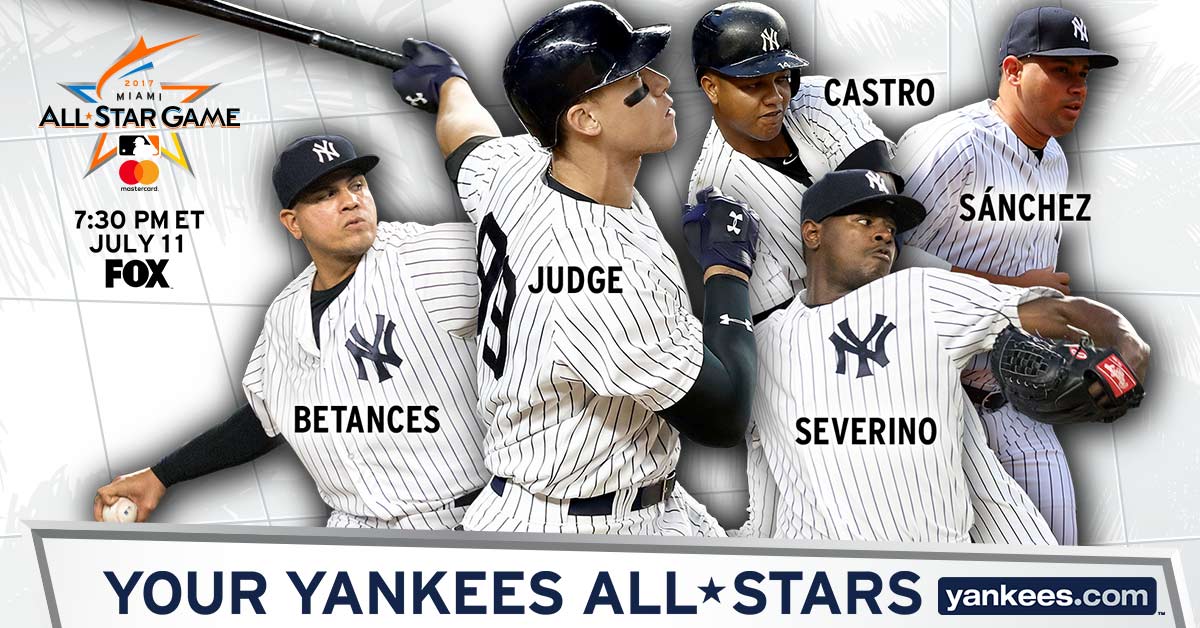 The MLB All-Star Game rosters were announced this past Sunday, and the New York Yankees will be well-represented in Miami for the Midsummer Classic. Aaron Judge, Gary Sanchez, Starlin Castro, Dellin Betances, and Luis Severino will make the esteemed squad, which will be managed by Cleveland Indians manager Terry Francona.
This is the first All-Star appearance for Judge, Sanchez, and Severino, the first as a Yankee for Castro (his fourth overall), and the fourth in a row for Betances. Judge will be the starter in right field, the first AL rookie to start in the All-Star Game since Hideki Matsui in 2003. Additionally, both Judge and Sanchez will participate in the Home Run Derby.
Each of these Yankees was more than deserving of the honor; let's take a look at each Yankee All-Star's season so far.
Where else to begin than with Aaron Judge? Judge has shattered expectations this season, setting records left and right and capturing the eye of baseball fans around the nation. Judge's numbers are simply staggering: he is slashing .330/.449/.684, is leading the league with 27 home runs, 72 runs, 62 RBI, and 58 walks. And he's doing this all as a rookie under the bright lights of New York.
Judge is the total package, a player unlike any other. He is a beast of a man at 6'6″ and 282 pounds, but is shockingly athletic and even agile in the field and on the basepaths. There is not anything that Judge can't do on the baseball diamond.
Judge has a penchant for hitting home runs that travel insane distances, including a 495-foot bomb against the Orioles in June. Naturally, Judge will be among the favorites in the Home Run Derby.
Standing right next to Judge in the Derby will be his teammate, Gary Sanchez. Sanchez got off to a bit of a slow start this season, after having a similar rookie season to that of Judge. Sanchez missed much of April due to a bicep injury, but he has roared back and is still the preeminent young backstop in the American League.
Sanchez is slashing .294/.380/.531, with 13 home runs and 40 RBI in just 52 games, totals that lead American League catchers. He is still gunning down opposing base-stealers at an above-average clip, as his 33% caught-stealing percentage can attest. Given the spotlight that Judge has received, Sanchez's contributions have somewhat fallen under the radar. Often tasked with protecting Judge in the lineup, Sanchez will try and outdo his friend in the Home Run Derby.
One Yankee who earned every bit of his All-Star nomination is second baseman Starlin Castro. We've already written about the career of Castro, and how he is worthy of an All-Star selection. I guess the MLB took note of our article, because Castro was officially named to the All-Star Team as a reserve.
Castro is currently on the DL with a hamstring strain, but he will try his hardest to get back in time to play in the Midsummer Classic. Castro has played a crucial role in the Yankee offense the past two years, protecting Judge and Sanchez while providing thump and extending the lineup. Add in his knack for coming through in clutch situations and his redemption story, and you've got a surefire All-Star in that of Starlin Castro.
The Yankee offense has been the big story this season, but what about the pitchers? Dellin Betances is about as much of a sure thing as you can have out of the bullpen, as his four straight All-Star Game selections can attest. Betances filled in capably for closer Aroldis Chapman when he was injured for a month, and has been his usual self escaping jams and racking up strikeouts no matter what inning or situation Joe Girardi elects to use him in.
Betances has actually had a rough past two weeks or so, but his track record as one of the game's top relievers earned him this nomination. If Terry Francona's AL All-Stars are nursing a lead late in the game, there are few better to call upon to preserve the lead than Betances, with his 99-mph fastball and devastating breaking ball.
The Final Yankee All-Star is one that seemed farfetched at the beginning of the year in starting pitcher Luis Severino. "Sevy", as he is known, earned the fourth starter's spot in Spring Training following a difficult 2016 season, one in which he was even demoted to the bullpen and eventually the minor leagues. Severino has looked like a completely different pitcher this season though, and has become the Yankees' ace while Masahiro Tanaka has struggled and CC Sabathia has been injured.
Severino has always had the stuff: his fastball can reach 100 mph, and his slider and changeup are quality out pitches. Severino had some issues with command and consistency that he has largely ironed out. His 5-4 record doesn't look all that great, but the bullpen has blown 6 games in which he exited in line for a win. He is line to throw over 200 innings, striking out over 200 batters in the process, and boasts a 3.52 ERA. Severino's comeback has been a big story this year for the Yankees, and it's nice to see him get the national recognition he deserves.
The New York Yankees have had a very successful 2017 season, and it only seems right that they get rewarded for that at the All-Star Game, the MLB's premier summertime event and national exposure to casual fans. The All-Star Game is always a thrill for the players and fans in the host city, and you can be sure that your Miami-bound Yankees will do their share in lighting up Marlins Park in the Midsummer Classic.