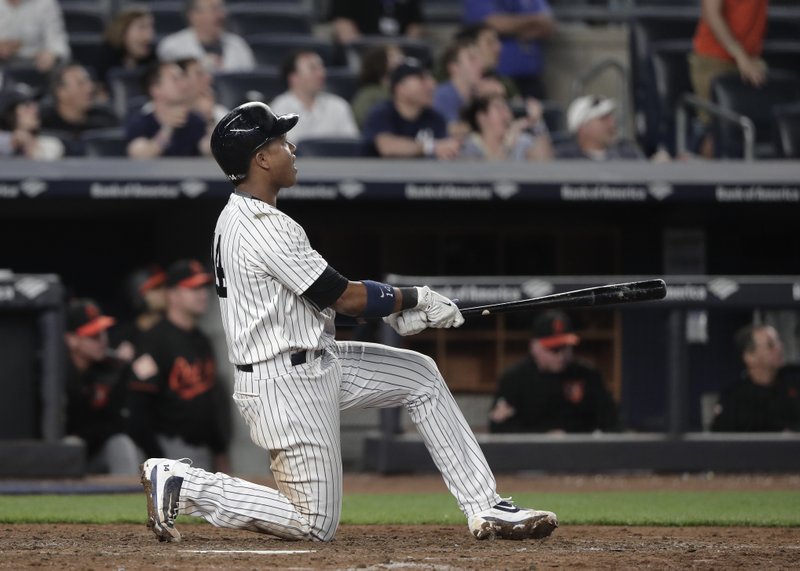 The 2017 New York Yankees have had a lot of storylines pop up this year: their surprising return to contention has been fueled by the heroics of Aaron Judge, Gary Sanchez, Luis Severino, Matt Holliday, Aaron Hicks, and Brett Gardner, among others. Just about everyone on the Yankee roster (except Chris Carter, that is) has done something great this year for the Bombers.
However, one Yankee has been one of the club's top players for two seasons now, and few outside of New York have noticed. Starlin Castro, the Yankee second baseman, has quietly become one of the Yankees' best players, and a truly deserving MLB All-Star.
The biggest problem holding Castro back over the years has been the type of player that he could be. Even going back to his days in Chicago as a flashy young shortstop, the media was constantly focused on what Castro was not rather than the player that he was. In Chicago, Castro burst onto the scene as a rookie, and followed that up with a 207-hit season, a .307 average, 10 homers, and even 22 stolen bases. Castro improved even more the next season, and was selected to All-Star Games in both 2011 and 2012. Looking like a core Cub, Chicago awarded Castro with a 7-year, $60 million contract extension following the 2012 campaign.
But Castro hit some turbulence in 2013. Facing the pressure that comes with a new contract, Castro fell apart at the plate. Always an aggressive hitter, Castro was swinging at everything and his numbers sagged. He also struggled in the field and with consistency on the basepaths. He looked like the classic player who loafed around after he got his first big paycheck.
But Castro bounced back in 2014, making another All-Star team. He fell back to his old ways the next year though, and was even kicked out of his familiar shortstop position to make room for top prospect Addison Russell, who had surpassed Castro on the depth chart in Chicago, forcing Castro to second base. In Castro's final days as a Cub, he played in his first playoff series, as the Cubs made the playoffs for the first time in 7 seasons. Still, Castro looked like he was on his way out of the Windy City after 6 eventful seasons.
With the Yankees desperately needing a second baseman following the exit of Robinson Cano in 2014, a trade was agreed upon that sent Castro to the Yankees for relief pitcher Adam Warren and utility infielder Brendan Ryan. Given that the Yankees ended up reacquiring Warren and Ryan was soon DFA'd by the Cubs, the Yankees basically got Castro for free.
Castro began his Yankee career batting 8th, but it wouldn't be long before he endeared himself to Yankee fans. He had a first week for the ages with his new club, hitting .348 with 2 home runs and 9 RBI in his first taste of Yankee baseball. Castro struggled for the next two months or so, reverting back to the inconsistent player he had been in Chicago.
But around Father's Day, Castro began to heat up. He hit a walk-off home run against the Colorado Rockies in mid-June that fueled a Castro resurgence. He clubbed 8 more dingers in August, and became the Yankees' best middle-of-the-order bat. He ended the 2016 season with a .270 average, his best since 2014, and hit a career-best 21 home runs and led the Yankees with 70 RBI. It seemed like Castro had found a home in New York.
Coming into the 2017 season, big things were expected of Castro. He has spent most of his season batting fifth or even cleanup, and Castro has responded by putting up career-best numbers. Flanked by Judge, Holliday, and Sanchez, Castro now has the lineup protection he never had in Chicago. Castro is slashing .316/.352/.493 (all career-bests), and is on pace to top his single-season highs in home runs, RBI, runs scored, and extra-base hits. Castro is well is on his way to being nominated to his fourth All-Star Game.
The best part of Castro's game has to be his knack for coming through in clutch situations. No game better illustrates this than his game-tying, two-run home run against Baltimore in April that sent the game into extra innings: a game that marked the biggest comeback victory in Yankee franchise history.
Castro is still not a perfect player: his defense and baserunning remain merely average, he strikes out too much, and doesn't walk enough. However, Castro has finally become a consistent hitter, as evidenced by his leading the league in multi-hit games with 29 such contests.
And while the Yankees have some of the top infield prospects in all of baseball in Gleyber Torres, Tyler Wade, Miguel Andujar, and Jorge Mateo, it better not be Castro that gets shipped out to make room for the kids. Castro is a leader for the Yankees, and has finally made his mark in the big leagues.
There may be bigger names on the Yankees, but few stars shine as brightly as Starlin Castro, an All-Star in every sense of the name.