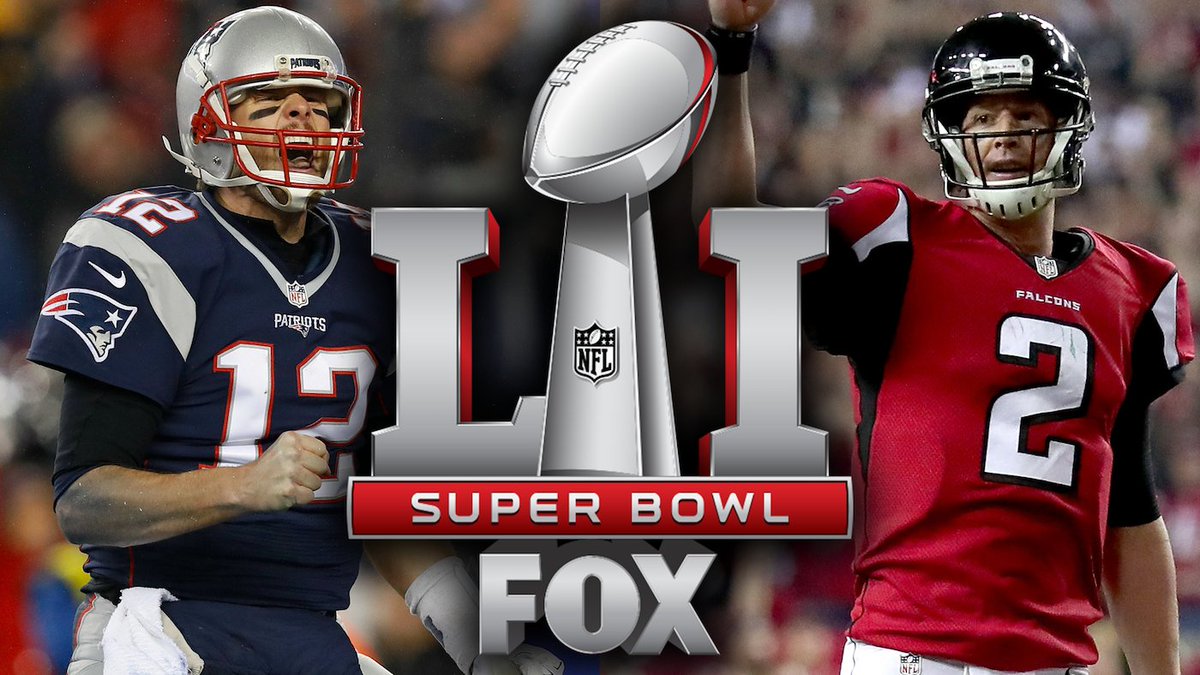 This is it: after a 4-month journey through various trials and tribulations, it is finally time for the big game worth all the marbles. And what a star-studded season finale it will be this time around.
In the red corner, we have the Atlanta Falcons: the NFC Conference Champions, NFC South Division Champions, and the NFL's most electric offense. The new kids on the block, they are ready to take flight.
And fighting out of the blue corner, we have the New England Patriots: the AFC Conference Champions, AFC East Division Champions, and the NFL's greatest villains. No strangers to the big stage, the Patriots are primed for another Championship drive.
The hubbub all comes to a head one week from today, when the two combatants will finally duke it out under the lights at NRG Stadium in Houston, Texas. Kickoff is set for 6:30, and can be seen on FOX.
Atlanta Falcons: Offense
No team in the NFL has an offense that can rival that of the Atlanta Falcons'. Quarterback Matt Ryan is coming off of his finest season at age 31, throwing for almost 5,000 passing yards, 38 TDs, only 7 INTs, a 69.9% completion rate, and a sublime 117.1 passer rating. And he has been even better in the playoffs, bettering all of his rate stats and leading the Falcons to just their second Super Bowl appearance.
While Ryan has stepped up his game in an MVP-worthy way, his teammates around him give him the best supporting cast in the NFL. Running backs Devonta Freeman and Tevin Coleman are a dynamic 1-2 punch that combined for 1,599 rushing yards and 19 TDs on the season. Julio Jones is arguably the league's top receiver, and Mohamed Sanu Sr. and Taylor Gabriel are dependable targets.
The Falcons have yet to be stopped by any defense; they have pulverized the likes of the Denver Broncos, Oakland Raiders, Seattle Seahawks, and Green Bay Packers (twice). New England has a good defense, but they can only hope to contain the explosive Falcons' offensive firepower.
New England Patriots: Offense
Some thought that the 4-game suspension handed to Tom Brady would throw the 39-year-old quarterback for a loop, but the haters were emphatically put to rest when Brady responded with possibly his greatest season ever. Brady ages like a fine wine; he had the best completion rate and interception rate of his career, as well as his second-best passer rating. Brady gets better through age and adversity, unlike any other quarterback we have ever seen.
But much like Matt Ryan in Atlanta, Brady does not have to do it alone. His rushing attack, led by bruising LaGarrette Blount, shifty Dion Lewis, and versatile James White, gives the Patriots balance. His vast array of targets, which includes Julian Edelman, Martellus Bennett, Danny Amendola, and yet another Belichek gem in Chris Hogan, rivals any team's, and the tricky offensive play calling of Bill Belichek keeps opponents on their toes at all times.
There's no doubt about it: these are the two best offensive teams in the entire NFL.
Atlanta Falcons: Defense
In such an offensive matchup, defense will inevitably make the difference. The Falcons do not look the part on defense, but their guys are dependable and consistently force turnovers and pressure the passer. Linebacker Vic Beasley led the NFL in sacks during the regular season with 15.5,  but he has not played in the playoffs yet due to a shoulder injury. Rest assured though, he will be there for the Falcons in the big game.
Linebacker Deion Jones is a sound tackler, and safeties Keanu Neal and Ricardo Allen can both stuff the run and pester quarterbacks deep. The Falcons run an aggressive 4-3 that features lots of blitzes, the only thing proven to be able to throw Tom Brady off of his game. We'll see if the Falcons can follow the New York Giants' lead by coming at Brady from all angles.
New England Patriots: Defense
For all the love that the Patriots get on offense, it is time that we pay attention to their stellar defense. Macolm Butler, Logan Ryan, Patrick Chung, and Devin McCourty could be the best group of starting DBs in the NFL, and the front-seven, while short on big names, has lots of consistent playmakers.
The Patriots allowed the fewest points per game of any NFL team this year, a testament to their bend-but-don't-break Belichek mentality. No team has been able to stop the Falcons yet on offense, but if the top defense in the NFL cannot, then no one can.
Atlanta Falcons: Special Teams
The Falcons are stout on special teams. Matt Bryant is a proven kicker that rarely misses, Matt Bosher had just one touchback all year, and Eric Weems is a good return man.
New England Patriots: Special Teams
No team has a better specials unit than the Pats; Stephen Gostkowski never misses a kick, Ryan Allen gets good hang time on his punts, and return men Dion Lewis, Danny Amendola, and Julian Edelman are proven touchdown threats.
Conclusion:
The schedule-makers couldn't have asked for a better Super Bowl than this: watching the top two offenses in the league face off makes for amazing TV. It should be a close game, but defense is really going to be the X-Factor. We know that Matt Ryan and Tom Brady can each put up 30 points in a split second, but either the Falcons' big-play defense or the Patriots' conventional, no-frills scheme will take center stage on Super Bowl night.
Prediction:
31-23, Patriots