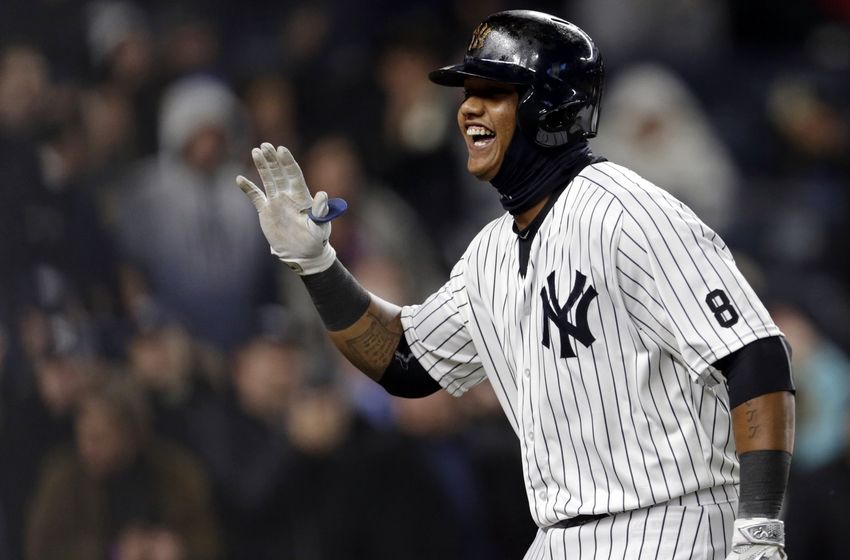 Starlin Castro's debut in the Big Apple has been nothing short of spectacular. Through 4 games, the new Yankee second baseman is batting .438 with 2 home runs, a 1.375 OPS and playing flashy defense. While he will never keep up this ridiculous pace, it is safe to say that the Yankees have finally found their answer at second base, something that they've been searching for since Robinson Cano left following the 2013 season.
But while some want to see even more from Castro, such as a move up in the batting lineup, the Yankees would be wise to leave Castro as a supporting piece rather than "The Guy" in both 2016 and beyond.
The Yankees' trade for Starlin Castro was a steal. The price for a 3-time All Star capable of playing second base and shortstop was hybrid pitcher Adam Warren and utility infielder Brendan Ryan, who was DFA'd by the Cubs later that same week. While Warren was a critical piece on the Yankees, New York had no shortage of pitchers and a real shortage on second basemen, so the trade seemed to work for all parties involved.
Castro as a Chicago Cub was a polarizing figure. He had 3 very good seasons, 1 brutal campaign, and 1 so-so year. At his best, he accumulated 207 hits while batting .307, blasted 14 dingers, stole 25 bases, and was regarded as the face of the franchise.
However, this "face of the franchise" moniker is what ultimately led to his downfall in the Windy City. When he moved from the leadoff or second spot in the order to somewhere in the 3-5 spots in 2014, his production waned significantly. The former All-Star was a shell of his former self, hitting just .245 with a putrid .631 OPS, running out of power, swinging at everything, and losing the fundamentals of hitting.
Castro continued in this rut until the promotion of stud prospect Addison Russell. Russell took over Castro's old spot at shortstop, which was the turning point of Castro's career. After manager Joe Maddon sat Castro for 3 games, he debuted at second base and began to hit again.
Because Castro had the pressure taken off of his back, he was able to settle down and play high-quality baseball. His trade to the Yankees allowed for a continuation of this role. Surrounded by such names as Alex Rodriguez, Mark Teixeria, Carlos Beltran, and Jacoby Ellsbury, Castro didn't have to be the focal point of the lineup, as he was in Chicago.
But after Castro's blistering start to the 2016 season, some fans want to see Castro get a chance at the top of the lineup. This may not be the best idea, despite all evidence to the contrary.
First of all, if the Yankees were to move Castro to the top third of the order, one of Ellsbury, Rodriguez, or Brett Gardner would have to move down. While many fans wouldn't take issue with Ellsbury being demoted to the seventh spot in the lineup, this isn't a good idea either.
Ellsbury's contract basically ensures that he will bat leadoff so long as he's healthy. Additionally, Ellsbury really only profiles as a leadoff hitter. While some fans are already down on him because of his expensive price tag, tendency for injuries, and overall average production since becoming a Yankee, I remain high on Ellsbury. There's simply no way that he gets moved down in the lineup at this point in time.
It also isn't smart to move Gardner or Rodriguez down, two of the Yankees' best hitters. The power hitters in spots 4-6 (Teixeria, Beltran, and Brian McCann) also seem safe. Therefore, the only spot for Castro to move up to is seventh, flip-flopping with Chase Headley. And with that only a marginal increase in at bats, it appears that Castro will remain in a supporting role.
And there's nothing wrong with that. Back in the 2009 World Series Champion team, Robinson Cano, Nick Swisher, and Melky Cabrera made up the 7-9 spots in the lineup. Cano and Swisher each hit over 25 home runs, and Cabrera was the best ninth hitter in baseball. While I'm not suggesting that Headley, Castro, and Didi Gregorius will be as good as that awesome trio, I am saying that if there was enough at bats for all of those guys in 2009, there will be enough at bats for the Yankees' current 7-9 hitters.
History is sometimes the best indicator of the future, and both Castro's history and the Yankees' history shows that it may be best to leave Castro as a sort of secret weapon in the latter third of the Yankees' lineup.